PARTIES / FUNCTIONS


Tumon Guam Party Venue!!!

Looking for a Party Venue on Guam for your Party!? Yes, We Can Do It!!!

Blue Light Special - Ask us about our 'Open Bar' (all-you-can-drink) packages as low as $25 for 2 hours. That's $12.50 per hour per person available for Joe Public Party or Private Party!!!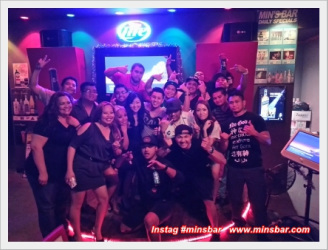 Let Us Host your Event!!!
Situated in the Heart of Tumon, Min's Bar is a great location to have your next party or get together. Offering a comfortable atmosphere with Garage Parking and WiFi throughout the 1st floor to include our restaurant, Wagaya88 Fusion Restaurant.
Stop by or give us a call to discuss your next party package.
We can tailor your event to include dinner at our adjoining restaurant.
Min's Karaoke Venue offers an alternative to the typical Tumon karaoke bar scene. It is an extraordinary venue that offers a unique experience from the ordinary. Min's Bar can easily be transformed into an exclusive private Karaoke party venue.
That's Right!!! You can book your own EXCLUSIVE PRIVATE PARTY** @ Mins for 'Guest List' only. **Conditions Apply
, Contact Min for Details
Our Party Venue is furnished with 800+ Watts Pro Amp 6 + 1 (((Surround Sound))) TJ Media Karaoke Entertainment System that features 50" color Flat Screens, and a machine with over 10,000 songs. Our Karaoke Machines are Updated VIA the Internet to ensure we have the * NEWEST KARAOKE SONGS Licensed & Released via TJ Media.
Experience the Concert Sound Effect singing on stage, and You are the Star!!!
---
Guam Night Life - Party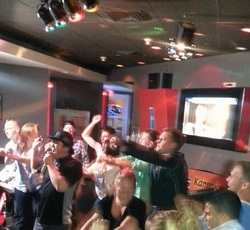 Tumon's Classy Karaoke Bar
Every event planner or host strives to have their party a successful one.
We do to because 'your guests' are 'our guests' and our goal is to ensure great service & hospitality so everyone has a great time!!!
Mins Bar has hosted many parties, big & small.
Birthday Parties, Wedding Parties, Military to Company Parties, we've done it all!
So come on by to plan your next event or
CONTACT US
at your convenience via email, Facebook, or a phone call.
Surprise Party
Promotion
Birthday Party
Bon Voyage
Hen / Stag Party

Company Party
Social Club / Cocktail Party
Bachelorette | Bachelor Party
Golf Club (After Golf Drink and Sing) Party

Family & Friends Party
Reunion or Class Party
Fund Raising
---
(Above) CELEBRITY T-PAIN the Famous Singer, Songwriter, Producer, Singing at Mins Bar Guam!!!
T-Pain is well known for Billboard Hits... "Bartender", "I'm N Luv" (Wit A Stripper), "Up and Down" and with Flo Rida,"Low" (Apple Bottom Jeans).

© 2010-2015 Mins Bar, All Rights Reserved
Mins Bar Tumon
– 1F Suite #102 "K" Building, traffic light Pale San Vitores & Happy Landing Intersect (across Tumon Burger King)
Tel: Day (671) 647-8880, After 7PM (671) 649-6467 Fax: (671) 649-8880 Email:
karaoke@minsbar.com
, minsbar@gmail.com