ANNOUNCEMENT:
Planning to Karaoke at Mins? Please Stay Tuned In to our Page for Booked/Over Booked Dates/Times.

Dates are OPEN!!!


---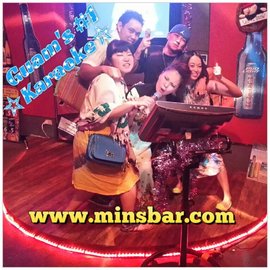 Hafai Adai!!! Welcome to Guam's #1 Karaoke, "Professional Concert Sound Karaoke", offering the largest music selection with a Safe & Friendly Atmosphere. There are no tricks here. Just Clean Karaoke Fun!!!

If you Love to Sing with Friends or even complete strangers...and have a Friendly Personality, then our place is for you!!!



Mins Bar is a Diverse Bar & Culture where Everyone is Welcome from All Walks & All Works of Life.

( 地元の人に愛されるローカルのカラオケバー。日本語 でもOK, お一人様でもグループでも お気軽に どうぞ。 )
---
Map is at the Bottom of Page


Join us on
FaceBook
to keep informed on Channel (((MIN NEWS))) and Daily/Weekly/Monthly Specials
---

Mins Lounge is Mins Bar Tumon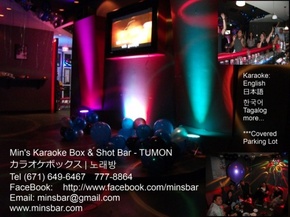 When the Sun Sets, the Moon Rises at Mins Bar
Guam カラオケボックス | KTV | Videoke | 괌노래방 | 去唱K

Welcome to the Mins Shot Bar and Karaoke Music Box in Tumon, Guam.
Mins Bar is Guam Karaoke at its Best!!! 'Classy' and 'Luxury' Karaoke bar located in the Heart of Tumon. We are your Bar, a Lounge, a Music Box and Party Venue all-in-one place. We have a well balanced elegant and classy atmosphere where you can be singing, drinking, even dancing with your friends! It is the perfect place for your next Party Venue in Tumon, for Private Functions, Special Events, meetings or company functions, featuring a range of food menus to fit any budget. ~Our Restaurant is located at the front of our Bar~
Come One or With Many, Our Bar is 'Your Bar'. Sit back, relax, and enjoy the evening!!!

地元の人に愛されるローカルのカラオケバー。日本語 でもOK, お一人様でもグループでも お気軽に どうぞ。
---
Newest Billboard Hits, Pop, R&B, Oldies, New Wave,
Old School & Country Music Karaoke available @ Mins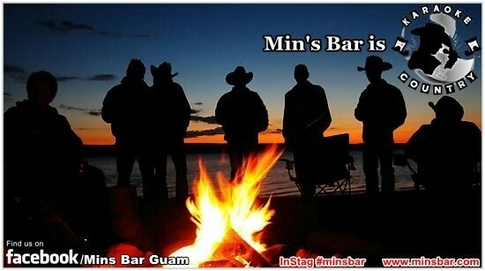 Country Karaoke Available at Mins
After Spending the Day at one of Guam's Beautiful Beach,
Head over to Min's Bar for Cool Drinks & more Happy Times!!! In-House Drink Specials all Night & Delicious Food from our adjoining Restaurant.
Where can you sing Country Music Karaoke on Guam? MIN'S BAR!!!

---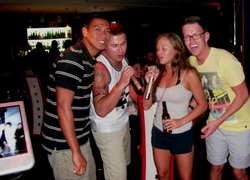 U.S. Military personnel enjoying Karaoke Time at Min's Bar
Message from Min:
Hafa Adai!!! and Welcome to Mins Karaoke Lounge & Shot Bar!!!

I opened my bar in April 2010 for our friends and customers who are looking for a clean classy Karaoke Lounge to sing with Friends & Family.
(must be 18 to enter, 21 to drink alcoholic beverages) My bar is NOT a host/hostess bar.
I am located at the traffic light intersection across Tumon Burger King (between Tumon Sands Plaza & Grand Hotel) and a walking distance from major Guam Hotels including Hyatt, Outrigger Hotel, Westin Hotel, Holiday Resort, Pacific Bay Hotel and the Marriott Hotel to name a few.
If you are a visitor to our Island, Welcome to Guam!!! Our Bar is a great place to relax after business meetings, duty, dinner or a day of Golf. If you're checked in nearby and need a ride, call me for details for Shuttle/Taxi service.

If you don't sing, it's ok, you can still enjoy our friendly bartenders and environment. Hang out, Shoot pool or throw darts while enjoying Cold Drinks, Assorted Cocktails, and All Kinds of Beer: from Budweiser, Miller Family, Heinekin, Corona, Asahi, Kirin, Amber Bock, Dos Equis, Stella Artois, Beer Beer!
See You Soon!!! /S/ Min

---
Guam's #1 Karaoke Bar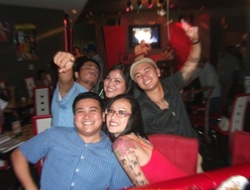 Located in the Heart of Tumon Guam, or 'Hotel Road' as it is colloquially known, Min's Guam Karaoke Club will make a Rock Star out of you and your companions. Enjoy Clean Karaoke Fun in a Safe, Luxurious, and Comfortable setting! (Mins is NOT a buy-me bar)
Mins Karaoke Club has more than 10,000 of your favorite karaoke songs to sing from in English, Japanese, Korean, Tagalog, and Chinese Karaoke Songs.

+ Voted Guam's #1 Karaoke Bar by N21 - Mew Mew Kim
+ "Best Place to get Drunk and embarrass yourself in Stereo" - TED


---


ANNOUNCEMENT: There is ADDITIONAL PARKING directly above existing garage parking.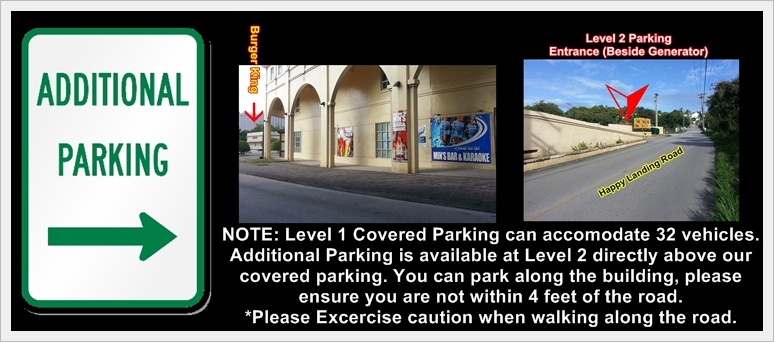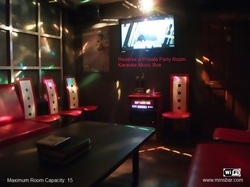 Private Party Rooms can accommodate small groups which can handle up to 15 of your most extroverted friends. Think of us for a memorable night out or for any private party you are looking to celebrate. Each room has its own Karaoke machine and sound system. You get to sing many of your favorite songs or practice new songs in the privacy and seclusion of your own 'Private Club'.
Note: Weekends, Friday & Saturday Night can get very busy, we recommend advance booking for our Private Party Rooms
. Stop by early during the week, call us, or
book on-line HERE
...
---
About Min

Hong Min B. (Min), was Born to humble beginnings in Korea, moved to Japan with family as a Teen, Graduated with a Bachelors Degree in Nutrition at an Osaka University. Owned and Operated Two (2) Yakiniku, Wagaya88 Restaurants in Osaka Japan...one in 1993 and second in 1995 - up to 2003.
In 2003 she immigrated to Guam and started Wagaya Hachi Hachi (LLC) Restaurant better known Today as Wagaya88 BBQ in Tumon - aside from Yakiniku, Wagaya88 added a Fusion of Local BBQ and Meals.

2010 - Part of the restaurant was renovated to accommodate the request for Karaoke after dinner. And coincidentally became a big hit with Locals, Military, & Visitors a-like.

Min resides in Tumon and has together with her family (the youngest born on Guam) assimilated with the Guam Community and has made Guam her Permanent Home.

++For all Intent And Purposes Min, Mins Bar, Wagaya88 is a Locally Owned and Operated Company.

© 2014 Mins Bar, All Rights Reserved
Mins Bar Tumon
– 1F Suite #102 "K" Building, traffic light Pale San Vitores & Happy Landing Intersect (across Tumon Burger King)
Tel: Day (671) 647-8880, After 7PM (671) 649-6467 Fax: (671) 649-8880 Email:
karaoke@minsbar.com
, minsbar@gmail.com